oc
Purpose
To promote and support research focused on palliative & end‐of‐life care. Our membership includes nurses with a broad range of research experience, from tenured professors who are established researchers with experience in securing grant funding and methodological expertise, to practitioners with clinical expertise related to end-of-life research, and nursing students whose passion lies in this area. This broad range of experience is useful in networking and sharing ideas regarding both theoretical and practical concerns in end-of-life research.
Who Should Join?
We welcome your participation in the Palliative & End-of-Life Care RIG. We are looking forward to meeting everyone who is interested in research and translational science regarding end-of-life issues, from symptom management and comfort care during life-threatening illness to caregiver issues, and to grief management for the bereaved.
RIG Communication
Listserv address:palliativeandendoflifecare@lists.mnrs.org
LinkedIn page, www.linkedin.com/groups/6537968.
2018-2019
Meet the RIG Leadership
 Chair

Renee Kumpula, EdD, MN, RN, PHN
Clinical Assistant Professor, University of Minnesota
rkumpula@umn.edu

Chair-Elect

Rebecca Lehto, PhD, RN,
Associate Professor, Michigan State University
lehtor@msu.edu

Past- Chair

Christine Fortney, PhD, RN
Assistant Professor, The Ohio State University
fortney.19@osu.edu

Grants Representative

Masako Mayahara, PhD,RN
Assistant Professor, Rush University
masasko_mayahara@rush.edu
RIG Awards
2018-2019 RIG Awards
The Palliative & End-of-Life Care RIG will announce the following awards at the 3/29 Annual Meeting at 1:00 PM:
Dissertation Award
Distinguished Researcher Award
DNP Project Award
Mid-Career Researcher Award
New Investigator Award
Please plan to join us for the full conference and the Palliative & End of Life Care RIG RIG meeting.
2017-2018 RIG Awards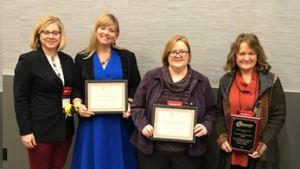 Dr. Christine Fortney, Chair (left) with 2018 MNRS PEOLC RIG Award winners:
Dr. Stephanie Gilbertson-White, New Investigator Award
Dr. Stacey Crane, Dissertation Award
Dr. Verna Hendricks-Ferguson, Distinguished Research Award
2016-2017 RIG Awards
Dr. Cynthia Bell, Best Manuscript Award
2015-2016 RIG Awards
Dr. Dana Hansen, New Investigator Award
RIG Member Publications
2018-2019 Goals
Update RIG directory of members with research area and population of interest to facilitate collaboration among RIG members
Distribute information of interest to RIG members on a regular basis (e.g. policy and legislation, NINR initiatives, member publications and awards, current trends in palliative and end-of-life research, member highlights)
Overall/Long Term Goals
Continue to improve/increase communication and networking between RIG members outside of the Annual Meeting
Highlight the research and recognize the accomplishments of our members through all available mechanisms (e.g. MNRS website/MNRS Matters newsletter and Research Briefs
RIG Email Updates
RIG Minutes/Meeting Summary
If you are interested in learning more about the Palliative & End of Life Care RIG , please explore the minutes from the past meetings:
Palliative & End-of-Life Care RIG Minutes from the 2018 Annual Research Conference.
Palliative & End-of-Life Care RIG Minutes from the 2017 Annual Research Conference.
Palliative & End-of-Life Care RIG Minutes from the 2016 Annual Conference.