MNRS promotes the highest standards in education and career development. We encourage members in the nursing community to develop their knowledge of nursing science and research with our valuable resources.
PUBLICATIONS:

Scientific Integrity (SI) Booklet – This handbook provides a practical overview of information to help nurses take an ethical approach to research.  Nurse researchers from across the Midwest collaborated to update this handy reference to guide students, nurses, and researchers. This Third Edition of Scientific Integrity is expanded to address the range of ethical issues researchers may encounter today.  Topics cross the research process, from considerations in research design to obtaining informed consent to ethical publication practices. Content addresses important issues to consider when working with vulnerable populations.  This updated version includes the following contents:
Ethical principles underlying good research practices

Scientific integrity and scientific misconduct

Protecting human subjects

Vulnerable groups in research

Current research topics including online research, big data, quality improvement studies, international research

Study and data management issues

Authorship and publication practices

Up-to-date references
Order your copy of Guidelines for Scientific Integrity: A Handbook for Research on Amazon today.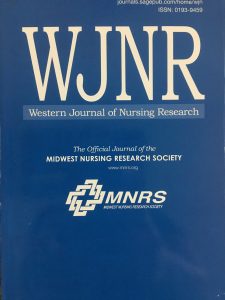 WJNR is the Official Journal of MNRS.  The Western Journal of Nursing Research (WJNR) is a journal devoted to the dissemination of research studies, book reviews, discussion and debate, and meeting calendars, all directed to a general nursing audience.
Since its inception more than two decades ago, WJNR has risen to the challenges of the ever-changing nursing research field, providing an innovative forum for nurse researchers, students and clinical practitioners to participate in ongoing scholarly debate.
Each issue of WJNR offers clinical research reports broadened by commentaries and authors' responses. Participation is invited through reviews, commentaries, and research papers as well as submissions to the department editors and Letters to the Editor in the Information Exchange section.
To access current and/or past issues of WJNR, click here.
To contribute to the WJNR, click here.
Questions can be directed to the WJNR Editor, Vicki Conn.
MNRS Matters – The official eNewsletter of MNRS is devoted to the dissemination of association information and activities.  The MNRS Matters eNewsletter is issued via email once a month.