Every year, the Midwest Nursing Research Society presents awards to selected members of the Society who have made significant and notable contributions to the field of nursing through research. The Awards Committee urges you to nominate a colleague today! Please click on the links below for the individual requirements for each award and the link to the nomination form.
*** PLEASE NOTE: Self-nominations are welcomed and MNRS members who applied for an Award last year and still meet the requirements are encouraged to re-apply this year.***
Accepting Applications NOW!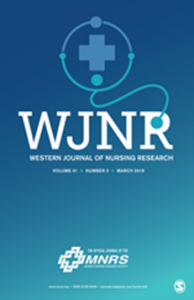 Applications are now being accepted for the Western Journal of Nursing Research (WJNR) Sage Best Faculty Paper Award and Sage Best Graduate Student Paper Award.
This award is to recognize outstanding scientific manuscript contributions to WJNR by members of the Midwest Nursing Research Society. This annual award will be conferred to two (2) manuscripts:
1) faculty member as first author
2) graduate student as first author.
The deadline for application submissions is Friday, June 1st. For more information or to apply, please click here.
Nominations for the following MNRS Awards are now CLOSED.  MNRS will announce the winners at the 43rd Annual Research Conference in Kansas City, MO on March 27-30, 2019.  

2018 John A. Hartford Foundation
Award Recipient
Dongjuan Xu, PhD, MS, BS


Purdue University

CLICK HERE  to View Past John A. Hartford Foundation Award

Recipients



2018 Harriet H. Werley
New Investigator Award Recipient
Amelia Knopf, PhD, MPH, BSN


Indiana University

CLICK HERE  to View Past Harriet H. Werley New Investigator Award Recipients
Distinguished Contribution Award Recipient
Carol Musil, PhD, RN, FAAN


Case Western Reserve University

 CLICK HERE  to View Past Distinguished Contribution Award Recipients
Distinguished Service Award Recipient
Marge Bott, PhD, RN


University of Kansas

CLICK HERE  to View Past  Distinguished Service Award Recipients
Lifetime Achievement Award Recipient
Lauren Aaronson, PhD, RN, FAAN


University of Kansas

CLICK HERE  to View Past Lifetime Achievement Award Recipients
Senior Scientist Award Recipients:
2013 Recipients
Claire Burke Draucker, PhD, RN, APRN, FAAN, Indiana University School of Nursing
Donna McCarthy Beckett, PhD, RN, FAAN, The Ohio State University College of Nursing
Linda Janusek, PhD, RN, Loyola University Chicago Marcella Niehoff School of Nursing
Susan E. Hickman, PhD, Indiana University School of Nursing
2012 Recipients
Bernadette Melnyk,PhD, RN, CPNP/PMHNP, FNAP, FAAN, The Ohio State University College of Nursing
Norma A. Metheny, RN, PhD, FAAN, Saint Louis University School Of Nursing
2011 Recipients
Vicki S. Conn, PhD RN FAAN, University of Missouri
Rita A. Frantz, PhD, RN, FAAN, University of Illinois
Toni Tripp-Reimer, University of Iowa
Pamela J. Salsberry, PhD, RN, Ohio State University
2010 Recipients
Marlene Cohen, PhD, RN, FAAN, University of Nebraska Medical Center
Elizabeth Madigan, PhD, RN, FAAN, Case Western Reserve University
Michael Weaver, PhD, RN, FAAN, Indiana University
Betsy Fife, BSN, MSN, PhD, Indiana University
2009 Recipients
Karen Ahijevych, PhD, RN, FAAN, The Ohio State University
Ann M. Berger, PhD, RN, AOCN®, FAAN, University of Nebraska Medical Center
Janean E. Holden PhD, RN, University of Michigan
Sarah Thompson, RN, PhD, University of Nebraska Medical Center
Lani Zimmerman, RN, BSN, MSN, PhD, University of Nebraska Medical Center
2008 Recipients
Marion Broome, PhD, RN, FAAN, Indiana University
Janet Carpenter, PhD, RN, Indiana University
Victoria Champion, DNS, RN, Indiana University
Barbara Daly, PhD, RN, FAAN, Case Western Reserve University
Joan Haase, PhD, RN, FAAN, Indiana University
Susan Ludington, PhD, CNM, FAAN, Case Western Reserve University
Shirley Moore, PhD, RN, FAAN, Case Western Reserve University
Carol Musil, PhD, RN, Case Western Reserve University
Susan Rawl, PhD, RN, Indiana University
Marilyn Sommers, PhD, RN, FAAN, University of Pennsylvania
Susan Noble Walker, EdD, RN, FAAN, University of Nebraska Medical Center
Jaclene Zauszniewski, PhD, RNC, FAAN, Case Western Reserve University