Purpose
The Qualitative Methods RIG was established to advance the use of qualitative research and mixed methods to study problems of interest to nurse clinicians, educators, and administrators. The use of naturalistic inquiry, phenomenology, ethnography grounded theory, case study, content analysis, and other qualitative methodologies have become increasingly important to understanding the experiences of individuals, families, and groups in confronting a variety of health care issues.
Comprised of nurse researchers from around the Midwest, the Qualitative Methods RIG promotes research across nursing specialties. Members have a wide range of experiences in studying such diverse health problems as dialysis and renal transplants, obesity, Alzheimer's disease, cancer, diabetes, mental health, genetics, palliative and end of life care. Members have also applied qualitative methods to study web-based nursing courses, the image of nursing, and perceptions of quality of care. Members are increasingly successful in obtaining small local grants as well as large, federally-funded grants to support their work, and provide a strong network for others wanting to adopt qualitative and mixed methods research designs.
Who Should Join?
Anyone who has an interest in qualitative and mixed methods methodologies to advance nursing research.
RIG Communication
Listserv address: qualitativemethods@lists.mnrs.org
LinkedIn page: https://www.linkedin.com/groups/6537956
Meet the RIG Leadership for 2019 – 2020
Chair

Cherrill Stockmann
Assistant Professor, Illinois State University
cistock@ilstu.edu

Chair-Elect

Lisa Burkhart, PhD, RN, MPH, ANEF
Associate Professor, Loyola University Chicago
eburkha@luc.edu

Past Chair

Lynne Connelly
Adjunct Faculty, University of Saint Mary Leavenworth
drlconnelly@gmail.com

Grant Representative

Sandra Siedlecki, PhD, RN, APRN-BC
Senior Nurse Scientist, The Cleveland Clinic
siedles@ccf.org

Grant Representative

Corinne Wheeler, PhD, RN, APRN-BC
Associate Dean and Associate Professor, Cleveland State University
corinneonthelake@gmail.com
2019-2020 RIG Awards
The Qualitative Methods RIG is proud to announce the following award opportunities to the RIG membership:
Please be sure to attend the RIG meeting at the 2020 Annual Research Conference to learn more about the award recipients. 
2018-2019 RIG Awards
Qualitative Methods:
Dissertation Award
Allison Stafford, BSN
Indiana University
Qualitative Methods:
Senior Investigator Award
Lee SmithBattle
Saint Louis University
Overall/Long Term Goals
Continue exploring networking opportunities, with a plan for two pop-ups (informal discussions done synchronously via video technology) in the next 12 months.
The first goal is to develop a network among MNRS members who are experts in qualitative methods to have a database of researchers for possible collaboration and mentoring.
The second goal is to facilitate a pre-conference workshop on qualitative methods for new nurse scientists.
Recent Activities/Highlights
Dr. Paul Clark partners with bedside & stretcherside pediatric nurses to develop a critical incident debriefing process and recently published an article on this topic in the Journal of Emergency Nursing.
Dr. Candace recently completed the 3rd revision of an evidence-based clinical practice guideline for assessing heart failure in long-term care settings with publications in the Journal of Gerontological Nursing and Series on Evidence-based Practice Guidelines.
Dr. Marie-Anne Rosemberg has studied occupational health and reproduction with publications in the Journal of Occupational and Environmental Hygiene and the Journal of Advanced Nursing.
Dr. Sandra Siedlecki will be inducted as a fellow in the American Academy of nursing in October this year.
CLICK HERE to read more about the RIG Activities/Highlights.
RIG Minutes/Summary
If you are interested in learning more about the Qualitative Methods RIG, please explore the minutes from the past meetings:
Qualitative Methods RIG minutes from the 2019 Annual Research Conference.
Qualitative Methods RIG minutes from the 2018 Annual Research Conference.
Qualitative Methods RIG minutes from the 2017 Annual Research Conference.
Qualitative Methods RIG minutes from the 2016 Annual Research Conference.
Member in the Spotlight
Melvina Brandau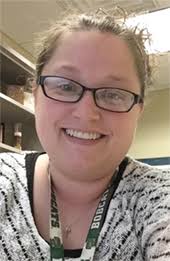 Melvina "Mel" Brandau has been a member and annual attendee at the Midwest Nursing Research Society Conference since 2012. At the 2019 conference in Kansas City, Mel was invited as a panelist on the ESN Lunch and Learn "Career Planning for Doctorate-Prepared Nurses" and presented a poster and poster discussion on her qualitative work titled "I Need Someone": Adolescent Victims' Reflections on Cyberbullying". Mel's dissertation work, "Adolescent Victims' Experiences with Cyberbullying: A Grounded Theory Study" lead to creation of a theory and visual depiction of the experience of adolescent cyberbullying: Emerging from Cyberbullying. This work was published in Qualitative Health Research and her dissertation, which became available in May 2018, was included in ProQuest's Top 25 Most Accessed Dissertations and Theses in August and October of 2018.
Mel is an Assistant Professor at Ohio University in Southeastern Ohio. Go Bobcats! She has 14 years of experience in nursing education and has designed curriculum and taught at various levels of healthcare practice, include Medical Assisting, Medical Records, BSN completion, and LPN through DNP. Mel currently teaches a Clinical Judgment course, Evidence-Based Nursing Practice in the traditional BSN and serves as Subject Matter Expert and Lead Faculty for the EBP course in the online BSN completion program. Mel has also recently revised Professional Nursing Practice in the online BSN completion program and a relatively new Writing for Nursing and Healthcare Professions course. In addition to teaching and scholarly activity, Mel serves as Vice President and Chair of the RN to BSN recruitment committee of the Lambda Omega chapter of Sigma Theta Tau International, Chair of the BSN Evaluation Subcommittee, and Co-Chair of the School of Nursing Research Conference Committee at Ohio University. As a native Appalachian, Mel seeks out opportunities to give back to her community. In addition to her role as Assistant Professor, she stays current in her nursing practice as a rural Emergency Department Nurse and Volunteer First Responder for her hometown fire department.
Mel, along with a colleague, received an internal grant of $15,000 to fund the implementation of a cyberbullying and digital citizenship curriculum among Appalachian Ohio middle school students. Mel has recently conducted online research into adolescent cyberbullying and is in the process of final analysis and manuscript development for that work. She enjoys collaborating with healthcare professions students and encourages them to engage in creative and scholarly activity. Mel is also working on a project with the Ohio University Academic Innovation Accelerator to create an innovative and engaging program to educate and prepare healthcare students of the potential for violence in the workplace and appropriate and safe responses.