Purpose
To advance the science of nursing education
Who Should Join?
Those interested in discussing, disseminating, collaborating, and researching nursing educational teaching and learning strategies and pedagogies
RIG Communicaton
Listserv: nursingeducation@lists.mnrs.org
LinkedIn page, https://www.linkedin.com/groups/6539559.
Meet the RIG Leadership for 2019 – 2020
Chair 

Rhoda Owens, PhD, RN
Assistant Professor, University of North Dakota
rhoda.owens@und.edu

Chair-Elect

Laurie Sells, MSN
Assistant Professor, Morningside College
sellsl@morningside.edu


Chair-Elect

Susan Strouse, PhD, RN
Assistant Professor, Grand Valley State University
strouses@gvsu.edu


Past Chair

Patti Varga, PhD, MSN, RN, CNE
Professor, Alverno College
Patti.varga@alverno.edu 

Past Chair

Diane Marcyjanik, PhD, RN
Assistant Professor, University of Wisconsin
marcyjdl@uwec.edu 

Grants Representative

Karen Gorton, PhD, FNP, RN
Associate Professor, University of Missouri – Kansas City
gortonk@umkc.edu
2019-2020 RIG Awards
The Nursing Education RIG is proud to announce the following award opportunities to the RIG membership:
Please be sure to attend the RIG meeting at the 2020 Annual Research Conference to learn more about the award recipients. 
2018-2019 RIG Awards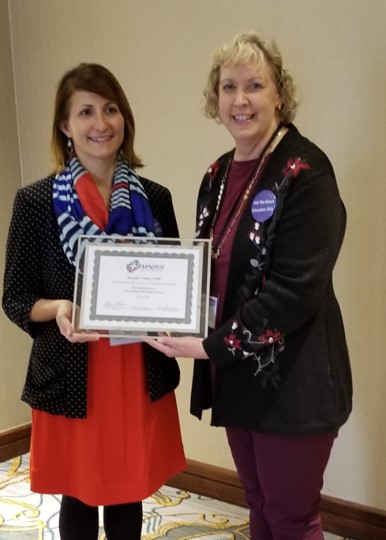 Nursing Education:
Advancement of Science Award
Mary Terharr, PhD
Case Western Reserve University
Nursing Education:
Outstanding DNP Project Award
Jennifer Timm, DNP
Winona State University
2019 – 2020 Goals
Increase visibility with a symposia
Improve networking, collaboration, communication, and make it more user friendly for the purpose of mentoring and enhanced funding mechanisms and multi-site research:

MNRS Matters (eNewsletter)
LinkedIn
Listserv (group email)

Refinement of measurement tools in education
Discussions formatted around topic specificity


Overall/Long Term Goals
Foster a collaborative research interest for nursing education and highlight trends in nursing education.
Generate translational/applied science for best practices in nursing education.
Stay in touch with national trends related to research and evidence-based teaching for nursing education


Recent Activities/Highlights
Click here to view the January 2017 newsletter

RIG Minutes/Meeting Summary
If you are interested in learning more about the Nursing Education RIG, please explore the minutes from the past meetings:
Nursing Education RIG Annual Report from the 2019 Annual Research Conference