Purpose
To advance the science of nursing education
Who Should Join?
Those interested in discussing, disseminating, collaborating, and researching nursing educational teaching and learning strategies and pedagogies
RIG Communicaton
Listserv: nursingeducation@lists.mnrs.org
LinkedIn page, https://www.linkedin.com/groups/6539559.
Meet the RIG Leadership for 2019 – 2020
Chair 

Rhoda Owens, PhD, RN
Assistant Professor, University of North Dakota
rhoda.owens@und.edu

Chair-Elect

Laurie Sells, MSN
Assistant Professor, Morningside College
sellsl@morningside.edu


Chair-Elect

Susan Strouse, PhD, RN
Assistant Professor, Grand Valley State University
strouses@gvsu.edu


Past Chair

Patti Varga, PhD, MSN, RN, CNE
Professor, Alverno College
Patti.varga@alverno.edu 

Past Chair

Diane Marcyjanik, PhD, RN
Assistant Professor, University of Wisconsin
marcyjdl@uwec.edu 

Grants Representative

Karen Gorton, PhD, FNP, RN
Associate Professor, University of Missouri – Kansas City
gortonk@umkc.edu
2019-2020 RIG Awards
The Nursing Education RIG is proud to announce the following award opportunities to the RIG membership:
Please be sure to visit the RIG Award submission site to nominate a fellow Nursing Education RIG member today.
Opens:  October 1, 2019
Closes:  December 3, 2019
If the above link does not load quickly, you can access the RIG Award Nomination site by accessing the main MNRS conference submission site: mnrs.societyconference.com.
Login using your email address and personal password.
Click on the Submissions box.
Access My Dashboard
Submit RIG Award
If you continue to have issues, please be sure to call the Executive Office at 615-432-0098 or email info@mnrs.org
2018-2019 RIG Awards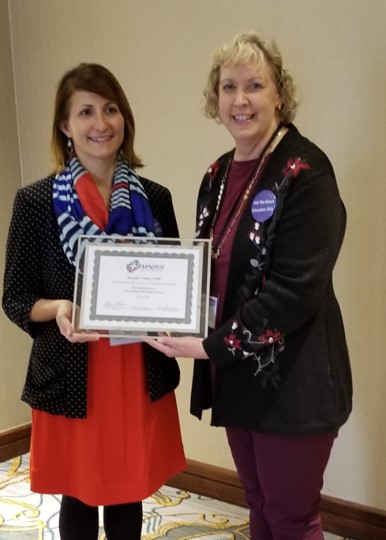 Nursing Education:
Advancement of Science Award
Mary Terharr, PhD
Case Western Reserve University
Nursing Education:
Outstanding DNP Project Award
Jennifer Timm, DNP
Winona State University
2019 – 2020 Goals
Increase visibility with a symposia
Improve networking, collaboration, communication, and make it more user friendly for the purpose of mentoring and enhanced funding mechanisms and multi-site research:

MNRS Matters (eNewsletter)
LinkedIn
Listserv (group email)

Refinement of measurement tools in education
Discussions formatted around topic specificity


Overall/Long Term Goals
Foster a collaborative research interest for nursing education and highlight trends in nursing education.
Generate translational/applied science for best practices in nursing education.
Stay in touch with national trends related to research and evidence-based teaching for nursing education


Recent Activities/Highlights
Click here to view the January 2017 newsletter

RIG Minutes/Meeting Summary
If you are interested in learning more about the Nursing Education RIG, please explore the minutes from the past meetings:
Nursing Education RIG Annual Report from the 2019 Annual Research Conference