Purpose
The purpose of the Family Health RIG is to advance family science by facilitating networking and partnerships between members, fostering the quality of the research conducted to advance family science, and facilitating dissemination of the research of section members. The Family Health RIG will continue to provide continuity as a "intellectual home and center of connectedness" for a core of nurse researches committed to extending family science.
Who Should Join?
Researchers interested in family health research
RIG Communication
Listserv address: familysection@lists.mnrs.org
LinkedIn Page: https://www.linkedin.com/groups/6540404.
2018-2019
Meet the RIG Leadership 
Chair

Kristen Abbott-Anderson, PhD, RN, MS, BS
Assistant Professor, Minnesota State University Mankato
Kristen.anderson@mnsu.edu

Chair-Elect

Monique Ridosh, PhD, M.S.N., RN, BSN
Assistant Professor, Director, RN-BSN Program, Loyola University Chicago
mridosh@luc.edu

Past Chair

Susan Breitenstein, PhD, RN, FAAN
Associate Professor, The Ohio State University
Breitenstein.5@osu.edu

Grants Representative

Wendy Looman, PhD, APRN, CPNP-PC, MS, BS
Professor, University of Minnesota
looman003@umn.edu
2018-2019 RIG Awards
Family Health is proud to announce the following award opportunities to the RIG membership:
Dissertation Award
Mid-Career Award
Early Career Investigator Award
Nominations are now closed.  Winner will be announced at the 43rd Annual Research Conference in Kansas City, MO.  Please plan to join us for the full conference and the Family Health RIG meeting.
2018 Goals
Get all members ORCID to track members publications
Develop a shared document that includes members name, research focus, and link to profile
Overall/Long Term Goals
Determine strategies to foster cutting edge family research from all perspectives among MNRS members and beyond (e.g., other regional groups).
Explore new technologies to connect RIG members to collaborators both within and outside of the RIG to address needed expertise, to develop synergies, to offer mutual support and to form effective teams.
Provide recognition for excellence in research in family with the following awards: Senior Investigator/New Investigator (every other year) and dissertation award (yearly).
Plan and conduct a pre-conference focused on family science on a 4-5 year cycle (unique challenges/opportunities in family research such as: family across the lifespan, design, research strategies, intervention science, complexity of methodologies to address family science analysis, patient/family centered outcomes or comparative effectiveness which focuses on family centered outcomes).
Plan and submit for consideration, symposium (guaranteed or open) for the MNRS meeting and/or international family meeting(s). Promote intra-professional and inter-professional family research projects.
Increase visibility and enhance the image of family health nursing practice
Recent Activities/Highlights
FAMILY RIG MEMBERS ABROAD!!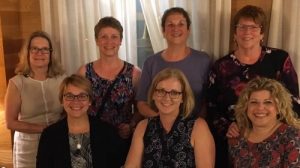 MNRS Family RIG members attending the International Family Nursing Conference in Pamplona Spain.
Pictured: Sandra Eggenberger, Joan Totka, Kathy Sawin, Rachel Schiffman, Monique Riodosh, Norah Johnson and Marilyn Swan.
RIG Minutes/Summary
If you are interested in learning more about the Family Health RIG, please explore the minutes from the past meetings:
Family Health RIG minutes from the 2018 Annual Research Conference.
Family Health RIG minutes from the 2017 Annual Research Conference.
Family Health RIG minutes from the 2016 Annual Research Conference.