2020 Annual Conference: ESN Lunch & Learn
Global Opportunities for Nursing Research & Evidence-Based Practice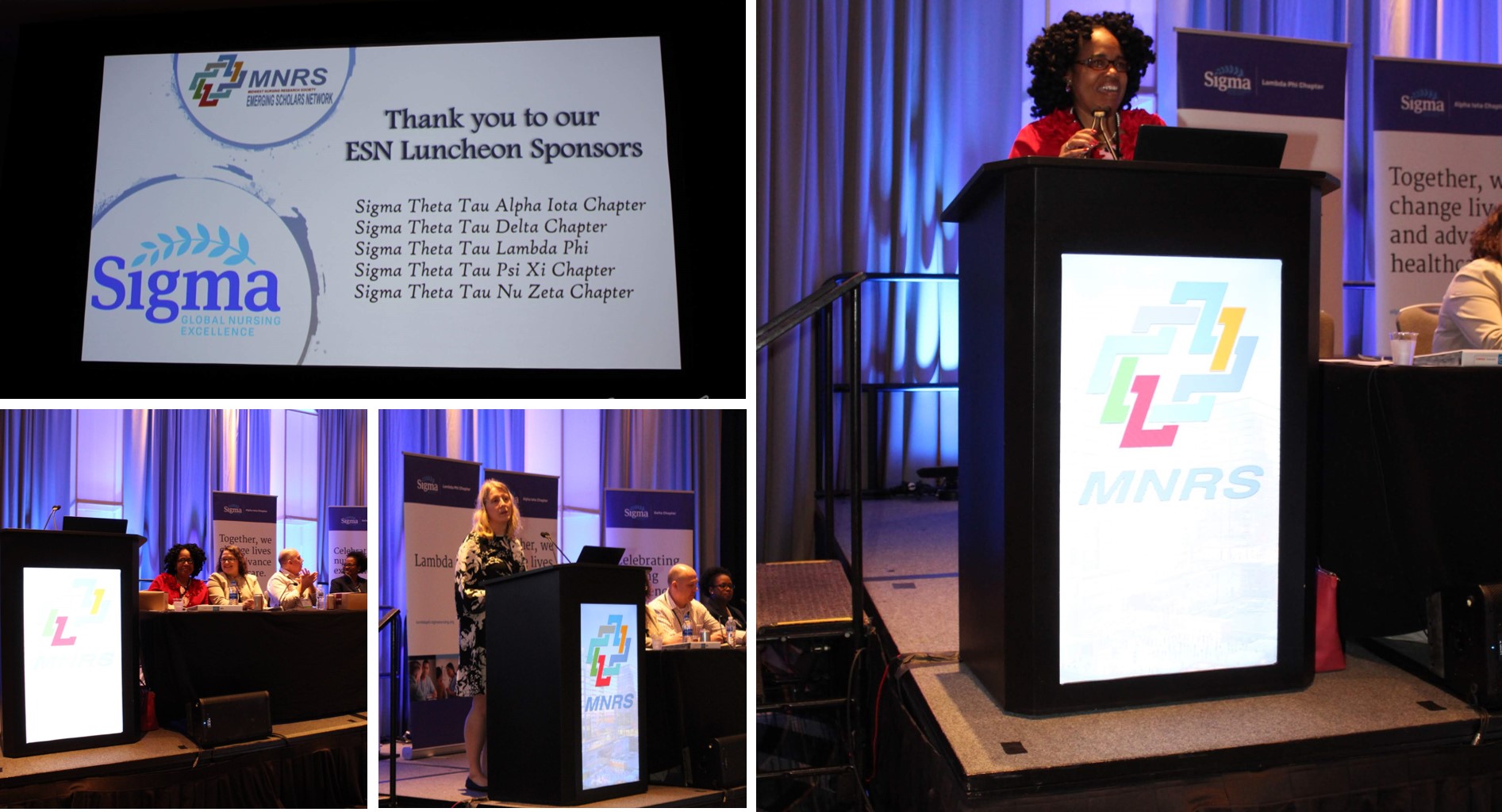 DATE:             Thursday, April 2, 2020
TIME:             11:30 p.m. – 1:00 p.m.
LOCATION:    VIRTUAL CONFERENCE - Link will be emailed to attendees
The session will feature a panel of nursing doctorate students and career nurse scientists who will share personal insights and research regarding global nursing research and evidence-based practice. Additional information regarding the benefits of MNRS/ESN membership.
This year's ESN Luncheon is generously made possible by:
Alpha Beta Chapter of Sigma Theta Tau at Loyola University Chicago
Alpha Lambda Chapter of Sigma Theta Tau at the University of Illinois at Chicago
Gamma Phi Chapter of Sigma Theta Tau at Rush University
Sign-up Information:
You must pre-register for the session before the conference
If you have already registered, you can log in to register at : https://mnrs.societyconference.com/v2/ and add the ESN session to your registration profile
Register early, as last year's luncheon sold out!
Questions? Email us at esn@mnrs.org OR info@mnrs.org
Topic: Global Opportunities for Nursing Research
and Evidence-based Practice
 Chuka Nestor Emezue, MPH, MPA, PhD Candidate, Sinclair School of Nursing, University of Missouri. His dissertation is entitled "Rural Adolescent Males: Gender Dating Norms & Perception of Digital Interventions for Teen Dating Violence.
Shahad Hafez, BSN, RN, MPA, PhD  nursing student at the University of Wisconsin-Milwaukee. Research interest is in end of life care (EOLC). Her research is about the experiences of mothers caring for a child receiving EOLC in Saudi Arabia. The main objectives of this research are (1) identifying the factors that influence the experiences of mothers caring for a child receiving EOLC in Saudi Arabia, and (2) understanding the impact of caring for a child receiving EOLC on the mothers' psychological, physical, social, and financial status. This is a phenomenological descriptive study.
Dr. Nasreen Lalani, PhD, RN, Assistant Professor Purdue University.  Dr. Lalani completed her PhD at University of Alberta, Canada in 2018. She completed her postdoc at the University of Calgary Alberta Canada in 2019. Her dissertation was focused on experiences of spirituality among family caregivers in a hospice setting.

"Rise Above: Experiences of Spirituality Among Family Caregivers Caring for Their Dying Family Member in a Hospice Setting in Pakistan"

J Hosp Palliat Nurs. 2019 Oct;21(5):422-429.
What is the Emerging Scholars Network?
The Emerging Scholars Network (ESN) is an all-encompassing term for all MNRS members who are designated as student, post graduate, or new faculty (with 3 years or less of experience).
Can I Attend the ESN Lunch & Learn?
The ESN session is open to all conference attendees interested in early-career professional advice from MNRS/ESN members.