Here you can find out about upcoming events and view photo galleries of past events. Some events may allow for online registration and the ticket purchase. Click the event name to view more details.
MNRS Inaugural Student Recruitment & Job Fair
September 22, 2020, 2:00 – 4:00 PM
MNRS will have exhibitors joining us for this new event and each will be scheduled for a brief presentation or video regarding their currently available opportunities for students and faculty. After the presentations, attendees will attend breakout rooms to follow-up with specific institutions of their choice for discussion and questions. Attendees are encouraged to move around from breakout room to breakout room as they desire but must register in advance for the first breakout room assignment.
If you would prefer a more confidential space to meet with the exhibitors, MNRS will assist in scheduling follow-up meetings* on September 23, 2020 – email the MNRS Executive Office at info@mnrs.org to schedule a time.
*Please note that there are a limited number of meetings on September 23 and all times will be reserved on a first come, first serves basis.
MNRS warmly welcomes the following exhibitors for the first inaugural fair:
Chamberlain University
Grand Valley State University
Loyola University Chicago
Marquette University
Purdue University
Rush University
Saint Louis University
The Ohio State University
University of Illinois at Chicago
University of Iowa
University of Missouri St. Louis
University of Nebraska Medical Center
University of Southern Indiana
University of Wisconsin – Madison School of Nursing

Twitter Chat Hosted by the MNRS Engagement Committee
September 22, 2020, 8:00 PM CDT/9:00  PM EDT
Please join us for a 'Twitter Chat' on Tuesday September 22 at 9pm EST. We will be discussing DNP-PhD collaborations in the research continuum. You can find us chatting by visiting @np_chat. We'd love to have students join in as well!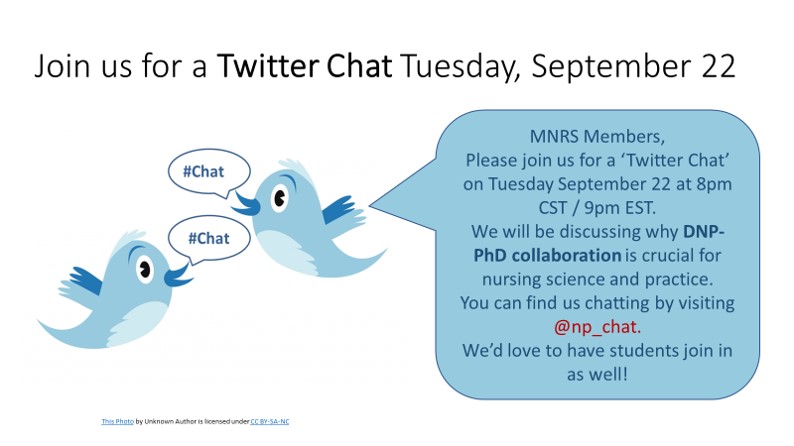 MNRS 45th Annual Research Conference
Des Moines, IA
March 24-27, 2021
MNRS would like to invite members, affiliated organizations, and non members interested in nursing research to join us for the upcoming 45th Annual Research Conference in Des Monies, IA. For more information about the 2021 Annual Meeting, please email the Executive Office at info@mnrs.org.